Well as you probably guessed I am an Amiga owner. I have a Siamese tower system, which comprises of an A1200 with a Blizzard 68030/50 and 10MB Ram. The PC side is a Cyrix based 233MHZ board.
---

Software I Like
If you have an Amiga, then you NEED the following software!

---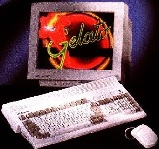 So what are we to do then troops?
We all know our machine can run MS-DOS and Windows (via PC-Task) and MacOs (via Shapeshifter) without any problems whatsoever, certainly making it the most versatile machine around, but those crummy PC owners just laugh at us for having software emulation of their machines.
Jealousy I think. I mean look at where all the best software came out first, Imagine, Lightwave, Wordworth, all out first on the Amiga!
---
Recent Amiga Developments
Cu Amiga has closed down.
I was at the World Of Amiga 98 show! Were you?
I thought it was great. It was really busy, and I got to see some great stuff such as Quake, and Foundation (Yes they're finally out!) and the Siamese Ami-PC network system. I also saw genuine PowerUp boards and A1200 Infinitiv towers! Roll on WOA 99!

Doom is out on the Amiga!

Clickboom have finally got Quake finished and released!!!

C.U. Amiga Magazine have brought us TFX. Good work CU!

The A1200 Power PC processor has been launched, and I hope that it really takes off. Just think about Lightwave rendering graphics at 200 Mhz!!! Check out the latest here. Only problem is affording a PowerPC card on a student budget!

An internet site promoting the use of the Amiga to create internet sites has been launched. The "Built with Amiga" logos on the front page came from this site. Check out Built With Amiga.

Guildhall Leisure (01302 890000) have brought Street Racer to the Amiga. They have also got shops such as HMV and Electronics Boutique to stock Amiga CD-Rom software, such as Civilization, F1GP and Blitz Basic.
If any other Amiga owners out there want to get in touch for any Amiga related matter, then please feel free to email me.

In the meantime, you could follow these Amiga related links, as long as you promise to come back here!