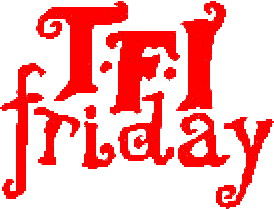 Welcome to TFI chat! I guess it goes without saying that the chat room is available for you to log on 24 hours a day. However there may not be too many people around to chat to. So, I've planned some scheduled chats for you all to join in on.

Scheduled chat times:
Friday 7PM (UK time)
Sunday 1PM (Uk time)

I'll see how popular the above times turn out to be, and maybe reschedule them if needed. In the meantime, chat away!

Please note that the Tfi Friday chat room is located on a public server. This server also contains other chat rooms. I can not be held responsible for the content of other chat rooms on this server. If you do change rooms and want to return to TFI Friday chat, the room name is simply tfi.