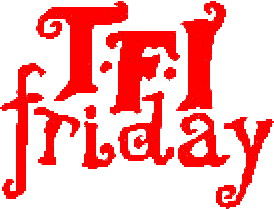 Well its Comic Relief again, and to help raise even more money, Chris and the team have made a special Comic Relief edition of the show.
(Picture alongside taken from The Sun)
Chris pledged that for every pound up to the first half million raised by Virgin listeners and TFI viewers the Ginger Media Group would match it. And he kept his promise! Tickets for the audience were auctioned off and given to the highest bidders, and the phone pledges continued to roll in.
Chris also promised that if £1.5M was raised during the show, he would show a very special Paul Gascoine video. Again, true to his word, Chris confirmed that the cash was raised and the video was shown.
The Unofficial TFI Friday Website is very pleased to join Chris in supporting such a worthy cause. Although my donation, shown here, is only a small amount, just remember, every penny counts!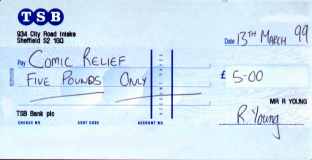 Everybody, please do the right thing and post all your cheques to Comic Relief (Red Nose Web) 99, Ernst & Young, PO Box 678, London, EC4Y 8AS. Credit card holders can pick the phone up and call 0345 460 460. Once you've made your donation, please sign the guestbook, and leave details of your genorosity for the world to see!
I apologise for the sub-standard quality of the pics below, but my reception of BBC1 is crap!
| | |
| --- | --- |
| | |
| Here we go... | Gena Lee Nolin with the total rasied by the audience. |
| | |
| The total raised by Virgin listeners. | THAT video tape. Unfortunately, Paul can't be with us... |
| | |
| Paul looking to see if he's here! | Barbara and Mel - or is it Andrew in disguise? |
| | |
| Kathy and Ray. Did they? Didn't they? | Hmmm... |
| | |
| Almost all the saints! | And again! |
| | |
| And again! | Eddie Izzard, a unicycle and escapology! |
| | |
| THE Paul Gascoine video! | Not bad MacDonald. Needs lengthening a bit! |
| | |
| Good Save Evans! | Will celebrates! |
| | |
| They think it's all over... | The finale! |